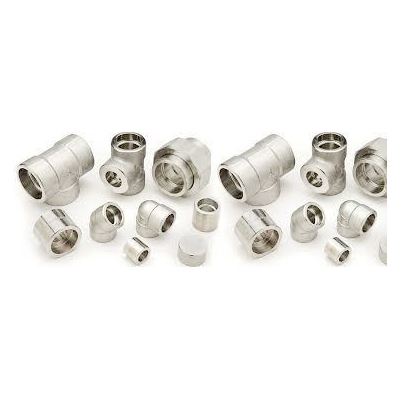 Stainless Steel Forged Fitting
Product Code : 01
Product Description
Stainless Steel Forged Fitting

With the assistance of our competent workforce, we have been committed to supply a wide range of Stainless Steel Forged Fitting. These fittings are widely used in electrical, engineering and marine industries. Our offered fittings are manufactured using superior quality stainless steel and forged steel in order to attain complete customer satisfaction at our vendors' end. A team of quality experts duly check these Stainless Steel Forged Fitting on various factors like seamless finish and accurate dimension.

These fittings are reckoned for:

Outstanding finish
Rugged construction
Simple fitting
Resistance against corrosion
Other details:

We are the Leading exporters and stocking of all grades of stainless steel and aluminum titanium and nickel alloys in Socket Weld and Screwed Fitting, steel fittings, butt weld fitting, butt weld pipe fittings, pipe fittings, pipe reducers, stainless steel pipe fittings, flanged pipe fittings, fittings, pipe flanges, brass fittings, socket weld fittings, npt fittings, steel fittings, hydraulic fittings, pipe fittings, compression fittings, bsp fittings, tube fitting, jic fittings, aluminum tube fittings, steel pipe fittings, stainless steel fitting, Inconel fitting,, Monel fitting, Hastelloy fitting, forged fitting, pipe elbows, forged steel fittings, threaded fittings, industrial pipe fittings, carbon steel fittings, forged flanges and fittings, carbon steel flanges, threadolet, tee fittings, pipe fittings manufacturers, welding fittings, metal pipe fittings, Seamless fittings, Erw fitting, Welded fittings India.

RANGE: 15 NB UP TO 100 NB IN 2000 LBS, 3000 LBS, 6000 LBS & 9000 LBS, 150 LBS, 250 LBS.FORM :: SOCKET WELD FITTINGS :: ELBOW 90 DEG, CROSS, TEE, ELBOW 45 DEG, COUPLING, HALF COUPLING & CAP Stainless Steel Forged Fittings SS Forged Fittings.

ASTM / ASME SA 182 F 304, 304L, 304H, 309H, 310H, 316, 316H, 316L, 316 LN, 317, 317L, 321, 321H, 347, 347 H

SS Forged Fittings ASTM SA 182
SS Forged Fittings ASME SA 182
SS Forged Fittings F 304
SS Forged Fittings 304L
SS Forged Fittings 304H
SS Forged Fittings 309H
SS Forged Fittings 310H
SS Forged Fittings 316
SS Forged Fittings 316H
SS Forged Fittings 316L
SS Forged Fittings 316 LN
SS Forged Fittings 317
SS Forged Fittings 317L
SS Forged Fittings 321
SS Forged Fittings 321H
SS Forged Fittings 347
SS Forged Fittings 347 H Stainless Steel Forged Fittings ASTM SA 182
Stainless Steel Forged Fittings ASME SA 182
Stainless Steel Forged Fittings F 304
Stainless Steel Forged Fittings 304L
Stainless Steel Forged Fittings 304H
Stainless Steel Forged Fittings 309H
Stainless Steel Forged Fittings 310H
Stainless Steel Forged Fittings 316
Stainless Steel Forged Fittings 316H
Stainless Steel Forged Fittings 316L
Stainless Steel Forged Fittings 316 LN
Stainless Steel Forged Fittings 317
Stainless Steel Forged Fittings 317L
Stainless Steel Forged Fittings 321
Stainless Steel Forged Fittings 321H
Stainless Steel Forged Fittings 347
Stainless Steel Forged Fittings 347H
Contact Us
17, Basement - 25C, Sonarika Apartment, A Wing, Chandawadi Society, Nanubhai Desai Road. (Opp 2nd Carpenter Street), Mumbai, Maharashtra, 400004, India
Phone :91-22-66518861