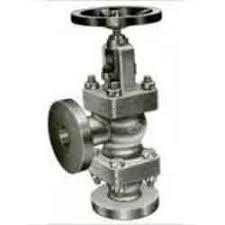 Accessible Feed Check Valve
Product Code : 09
Product Description
Accessible Feed Check Valve
Over the years, we have emerged as the topmost manufacturer and exporter of a wide range of Accessible Feed Check Valve. This check valve is manufactured in strict tandem with the industry standards using best quality materials. Offered to clients in standard dimensions and specifications to meet their diverse application needs, this Accessible Feed Check Valve is reasonable in price.
Features:
Robust design
Chemical and acid resistant
Long service life

DESCRIPTION

WJ' BRONZE ACCESSIBLE FEED CHECK VALVE, Angle Type, outside screw, Yoke Type, Rising Stem. S.S. (AlSl-410) Seat and Stem, having Flanged Ends to 35-10 Table 'H'. Suitable for 250 PSIG (17.58 Kg/sz) Max. Working Pressure and 428°F (220°C) Temp. Tested to 500 PSIG (35.15 Kg/sz) Hydrostatic Pressure.

SALIENT FEATURES

Accessible Feed Check Valve consists of two valves a stop valve operated by a hand wheel and a back Pressure Check Valve.
Available with straight or curved inlet.
Accessibility of check valve can be examined while the Boiler is in operation by closing the stop valve & removing the inlet.
TESTING AND CERTIFICATION

All valves are Tested at Double the Maximum Working Pressure. Each valve is supplied with IBR Test Certificate in Form Ill-C issued by The Director of Boilers, Punjab.
Technical Specifications
Dimensions

Nominal Size

A

B

C

D

E

F

G

H

20mm (3/4'')

114.3

9.5

127

130

67

67

145

75

25mm (1'')

120.7

11.2

152

156

114

114

160

90

32mm (1 1/4'')

133.4

11.2

159

162

111

83

170

90

40mm (1 1/2'')

139.7

12.7

141

146

90

90

200

105

50mm (2'')

165.1

12.7

172

178

102

102

225

140

65mm (2 1/2'')

184.2

14.29

211

213

122

122

250

190

80mm (3'')

203.2

15.88

232

238

133

133

270

190
Materials

Name of Part

Material

Specification

Nut for Handwheel

M.S.

----

Washer

M.S.

----

Studs and Nuts for Gland

M.S.

IS : 1367

Bolts and Nuts

M.S.

IS : 1367

Hand Wheel

Cast Iron

IS : 210 Gr. F.G 200

Disc Nut

S.S.

AISI- 410

Spindle

S.S.

AISI- 410

Gasket

Steam Jointing

----

Packing

Graphited Asbestos

-----

Valve Disc

S.S.

AISI- 410

Body Seat Ring

S.S.

AISI- 410

Check Valve Disc

S.S.

AISI- 410

Check Valve Seat Ring

S.S.

AISI- 410

Gland

Bronze

IBR 282 (a) (IV) Gr. B

Body

Bronze

IBR 282 (a) (IV) Gr. B

Bonnet

Bronze

IBR 282 (a) (IV) Gr. B

Check Nut

Bronze

IBR 282 (a) (IV) Gr. B

Check Valve Guide

Bronze

IBR 282 (a) (IV) Gr. B

Valve Inlet

Bronze

IBR 282 (a) (IV) Gr. B

Drain Plug

Bronze

IBR 282 (a) (IV) Gr. B
Contact Us
17, Basement - 25C, Sonarika Apartment, A Wing, Chandawadi Society, Nanubhai Desai Road. (Opp 2nd Carpenter Street), Mumbai, Maharashtra, 400004, India
Phone :+918061880053